There are several routes in the world which are considered to be the most difficult to ride. They need certain riding skills, confidence and cool head...
NO IMAGES? VIEW IN BROWSER
Hello,
There are several routes in the world which are considered to be the most difficult to ride. They need certain riding skills, confidence and cool head. They cannot display fancy hotels, decent restaurants and a certain level of comfort most of us are used to. They have something else.

They are about a challenge, an overcome, a breaking of your personal limits. Our ROAD OF BONES TOUR TO MAGADAN is one of these. If you are ready for the real adventure of your life this is exactly what you need.
WATCH OUR TEASER FROM 2019 RIDES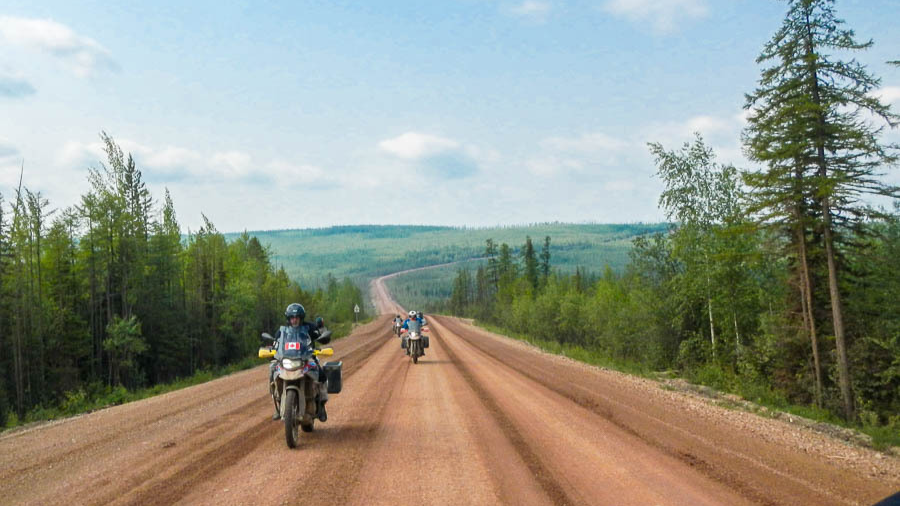 Vladivostok - Magadan: The Road of Bones

We start in Vladivostok and spend the first two days riding along the most famous Russian road – Trans-Siberian highway. Covering 1500 km. we arrive to Blagoveshchensk, located right at the border with China.

We use a rest day here to change the tires and get ready for the real off-road adventure. We need three days to reach Yakutsk, the capital of Yakutia republic, the biggest in size in Russia. To get here we ride along the Lena highway, a weird mixture of paved and dirt roads that go through endless area of taiga.
TOUR OVERVIEW:

ROUTE: Vladivostok – Khabarovsk – Blagoveshchensk – Never – Aldan – Yakutsk – Khandiga – Kubeme – Tomtor – Ust-Nera – Susuman – Ust-Omchug – Magadan

DATES: July-August

DURATION: 18 days (12 riding days + 4 rest days + 2 days arrival/departure)

MILEAGE: 5000 km (3107 miles)

ROAD DESCRIPTION: 50% asphalted, 50% gravel. Good off road riding skills are required

TOUR LEVEL: high, only for experienced motorcyclists. 2500 km (1553 miles) of dirt roads

PRICE: from 8950 EUR (includes F850GS)
No chance for us to skip Tynda, a town known as the capital of BAM (another famous Russian railroad). To approach Yakutsk, we use a 16 km. long ferry crossing across the Lena river as there is no other way to enter the city. We use a rest day in Yakutsk to learn a bit more about yakutian history, culture and traditions with a help of English-speaking local guide.

After leaving Yakutsk we enjoy our last 50 km. of asphalt roads as we start riding along the famous Kolyma highway/Road of Bones – a 2000 km. long dirt road paradise. Passing low populated villages and settlements we ride through the permafrost area, noticing how it affects life of the locals.
In a few days we approach Tomtor, a so-called ''Pole of Cold'' where a breaking record temperature -72 °C was estimated. We enjoy another three-five days of riding through breathtaking larch forests, charming hills, gold-mining areas and infamous GULAG labor-camps territories, visiting ghost city Kadikchan and camping in the wild nature.

Arriving to Magadan means that one of the most difficult and dangerous roads in the world is conquered.

Sightseeing tour and local gastronomic seafood restaurant awaiting us on the last day of the journey. The tour is over but, trust us, all the emotions and memories will be there with you for the rest of your life.

Crossing it with the private ferry and enjoying some off-road trails in the area around we continue riding South to the land of waterfalls and national reserves. You will enjoy numerous mountain ranges; through the sequence of Siberian altitudinal vegetation zones we observe ancient mounds which are the witnesses of nomadic Scythian culture. Fantastic views of the powerful Katun river will accompany us on the way back to Novosibirsk where this outstanding journey will finish.

TOP-5 REASONS TO JOIN THIS TOUR:

1. 2500 km (1553 miles) of the most difficult dirt road on the planet

2. Gorgeous untouched wild northern nature

3. Camping (few days) under the open sky

4. Study the history of infamous GULAG

5. Feel the breath of permafrost area
GULAG

Closed in the 60s Gulag remains the symbol of political repressions of the Soviet Union. The abandoned remaining's of former forced-labor colonies are still there. Riding along the Kolyma highway we cannot skip this sad but important part of Russia's' history

The Pole of Cold

In this region there are the lowest temperatures near the earth surface all over the world. The average monthly temperatures of the January are -50°C (-58 °F), during the coldest winters they reach -67°C (-88,6 °F). The lowest registered temperature was -71,2°C (-96,16 °F). And it's not the Arctic and people live there all the year round.

Road of Bones

Different type of surfaces from gravel and aggregate to sand and clay, plenty of natural obstacles, such as springs or even rough rivers, curves, downhills and uphills, changing climate conditions – all of these is there for you to enjoy the real adventure. Don't be surprised that after riding for a few hours you will notice that you haven't seen any other vehicles than your and your teammates bikes. This road runs along such a remote area of Russia that not many people do drive here. Nevertheless, stay focused and live the ride

Yakutian Culture

Most of our route goes across the lands which are inhabited by Yakutians, local aboriginals. These people have their own language, culture and mode of life. Originally being nomads, Yakutians pay their huge respect to mother nature. Most of them prefer living in small villages choosing cattle breeding and farming as their main occupation. Most of the dishes a made with fish, venison and horsemeat. Trying them is also a part of our big journey
Life, Pure and Unadorned
We won't see any of so common nowadays fancy houses and expensive cars on our way. People won't be dressed in posh clothes. Changing climate conditions, permafrost area and wild animals make this place not very best for living. That is why the value of life and labor is extremely high here and people are so open hearted, friendly and ready to help that you feel really very safe here.

A smile is a smile, a teardrop is a teardrop here. No fakes. It is hard to explain it, you better experience it on your own. And when you will do it you will understand the real values of this place
REPORTS AND IMPRESSIONS FROM THE PAST TOURS

From Russia with Love,
RMT Team

You have received this message because you have a subscription for Russian Moto Travel Company news.

© Copyright 2015-2023 Russian Moto Travel Company. All Rights reserved. Russia, Moscow, 1-st Borodinskaya street, 2A, 121059