We founded Rusmototravel (RMT) in 2015 with a goal to help people from all over the world explore Russia, big and beautiful country with the great touring potential...
NO IMAGES? VIEW IN BROWSER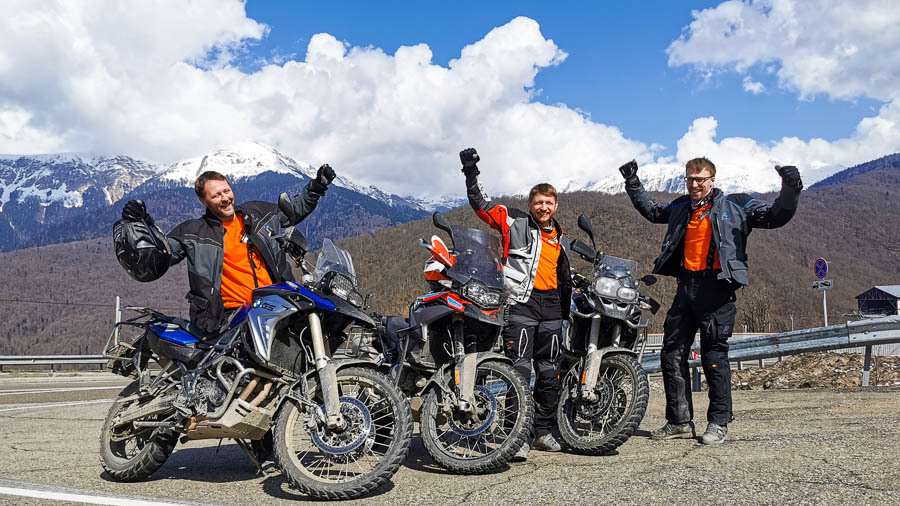 Dear riders,
We founded Rusmototravel (RMT) in 2015 with a goal to help people from all over the world explore Russia, big and beautiful country with great touring potential. Russia is huge: a lot of UNESCO World Heritage spots, diversity of regions, roads, nature sites, history and culture.

There is Hermitage and Road of Bones, Siberia and Red Square, Elbrus and Lake Baikal. And we want to show adventure riders from all over the world all this beauty.

In the beginning there were first 6 motorcycles and great passion for adventures. Nowadays there are more than 40 vehicles in our fleet: motorcycles, support cars and trailers.

Below you can read more information about Our Team, Our Fleet and Frequently Asked Questions.
Our Guides Are Our Pride
Our team of guides, our main asset, has grown up to more than 10 people – skilled, talented and professional. We are 100% confident that our team is the best in Russia and one of the best in the world. Doesn't matter what tour you will decide to join, be sure you will meet client-oriented and experienced guides, travelers, technical specialists, interesting interlocutors and very reliable personalities.
Roman Grishin

Roman was born in Moscow. He started riding motorcycles when he was 12 years old and has not stopped since that time. He competed in national enduro races and won Russian Rally Raid Championship in 2011. He has ridden hundreds of thousands of kilometers around Africa, Asia, South America and China. He is also an experienced motorcycle driving instructor and collaborates with Russian motorcycle magazines. He is fluent in English and has good mechanical skills. When he is not guiding tours, he enjoys hiking, enduro riding and photography. He is married and has three children. Personal bike - KTM 990

Mike Bibichkov

Mike is a very educated and sincere person. He loves long riding with views of beautiful nature. We met him occasionally after seeing several travel reports about Karelia and Chuhloma that he published at Russian web site devoted to motorcycle travelling. They were very well written, and there he described places we also love. So, we invited him for a glass of beer. Quickly we became friends and soon colleagues. Mike owns a Triumph Tiger and he is mostly focused on our short weekend tours around Moscow. He is also in charge of Karelia region and Kola Peninsula (North part of Russia, not far from Finland and Norway)

Anton Aleshanov

Our meeting was as spontaneous as most other things that happen in our life. In the beginning Anton was helping us with guided walking city tours around Saint-Petersburg. He lives in this city, has a perfect English and works as a city guide there. But he is also a motorcycle lover and at one moment we decided to try to involve him into doing one of our guided motorcycle tours. It worked out perfectly and now he is one of our tour guides. Anton now is learning German language. He owns the URAL motorcycle…))

Vlad Vasilevskii

Three years ago, Vlad moved from Moscow to sunny Sochi and today he is head of our Sochi office. Caucasus, Sochi and Crimea are home places for him, that is why he is in charge of most our "Sochi Tours". Vlad is keen on mountains, free diving, snowboarding and yoga. He's done Ironman twice. Surprisingly, but he is also an excellent shisha smoker. We are old friends with Vlad but as a tour-guide he joined us recently and we are very happy that he is doing just great

Alexander Rubtsov

More than 10 years ago Alex made a round the world trip and since that time motorcycles are part of his life. They are his passion and being a tour guide is his profession. Alex prefers long expeditions and challenging tours, such as Moscow-Vladivostok, Vladivostok-Magadan, Pamir, etc. A legendary guide needs a legendary bike, that is why he drives his Legend, Honda Africa Twin

Alexander Nikonov

Alex is one of company's founders and leading tour guides. During last 2 years he travelled from Moscow to Vladivostok 4 times. Alex is fond of reading books, exploring new places, long talks about politics, history, religion and life. He is a curious and open person. His most beloved bike is R1200GS LC
Our Fleet and Support Vehicles
When we started thinking about doing motorcycle tours in Russia, we were looking at different brands like BMW, KTM, Honda and even HD to choose the best model for our needs. We decided to keep emotions away and make the right choice firstly based on logic. A comparative analysis showed the winner with solid dominance – BMW GS, best bike for touring in Russia.

So far, we have F750GS, F850GS and R1250GS in our park and we use these bikes in all our tours.
All the motorcycles are equipped with heated handlebar grips, touring windscreen, protection (bar, engine, frame, headlight), side panniers (35 l. and 38 l.) and top cases (36 l.), basically all you need for a comfortable long ride.

You can rent any of our bikes for a solo ride/private ride with friends, take a self-guided or guided tour. Here you can read more about each type of the motorcycle.
Support vehicle will accompany you in every tour. By support vehicle we mean our 4x4 pickups which are Toyota Hilux and Mitsubishi L200, sometimes we use Vans. All the cars are equipped with a cargo area box which is used to carry the luggage, spare parts, medical kit and all other necessary stuff.

Support vehicle has a trailer with replacement bike. This might be especially useful in case of any emergency breakdown which can happen on tour. We can tow a bike to a closest workshop if a serious urgent repairment needed or we can swap the damaged bike with an extra motorcycle which is there in the trailer.

What is the group size?


We prefer small groups, 7-8 riders + 2 guides, one riding a bike and second driving a support vehicle.
Do you have support vehicle?

Yes.

What bikes you provide?


BMW F750GS, F850GS and R1250GS. We don't have other brands and other models of BMW.
Do we use highways or secondary roads?


We use secondary roads in 80% of time. Sometimes we ride highways when there are no other alternatives.

Roads are paved or gravel?


Most of our tours are asphalted and don't require any off-road riding skills. Sometimes we use unpaved roads, but usually these are short 10-20 km. sections. There are several tours, like Altay Mountains, Magadan Road of Bones, Dagestan, etc. where there are gravel roads.

Can I ride with a passenger?


Yes sure, we have riders with pillion/passenger in most of our tours.

How much money do I need per day?


As most of the expenses are included in the tour price there is not much you need, souvenirs, snacks on petrol stations, extra beer in the evening. 20-30 Euro per day is more than enough.
Do we stay in hotels or there are tents some days? What is the level of the hotels?


In all tours, including Moscow - Vladivostok, we stay in 3-4* hotels that were carefully selected to show you regions specifics. Our guests in their feedback forms rate hotels very good or excellent as a rule. We have tents only in one tour, it's Vladivostok - Magadan.
I am 70-75 years old, is it ok for me to join your tour or I am too old?


Most of our guests are 60-70 years old, every year we have 75-80 years old riders doing Moscow - Vladivostok tour, so it's not about age, but more about your physical and mental shape and intentions.
Are motorcycles insured?


Bikes have general third party liability insurance, so called OSAGO. You also have to pay a 1200-1500 Euro refundable deposit for the bike, or you can buy extra all-inclusive insurance for 250-500 Euro for the whole trip, it covers any damage you can do.
Is it difficult to make a visa?


Well, it takes some time and paperwork, but in general nothing special. And we always help with this.

Can I ride my own bike?


Yes, in all our tours you can participate with your bike.

What is the best time for visiting Russia?


Riding season is from April till October, 7 months.
What tour would you recommend, which is the best one?


We don't have one best tour;) Russia is very big country and there are many interesting places that are worth visiting. From our point of view, if you are more interested in cultural aspects of travel then Moscow-Saint-Petersburg or Moscow - Saint-Petersburg - Karelia are the one you need. If you prefer more riding and serpentine roads, then Altay Mountains, Sochi - Elbrus or Sochi - Crimea are right choice. For real adventure riders we would recommend Moscow - Vladivostok tour.
What is the temperature in Russia during the tour?


+20-25 on average.

How can I book tour?


To secure place you must pay 30% deposit at the time of booking and balance payment 2-4 months before the tour starts. You can pay with your card by the link that we will send you, you can make direct bank transfer or pay via PayPal. Please send us an e-mail to

info@rusmototravel.com

with details which tour you want to book.
Do I need international driving license?


Yes.

Where can I leave my luggage for the time of the tour?


In most tours we have support vehicle that will carry your luggage. If you don't need your bags with you can leave them in the hotel or in our office.
Do you have riding gear for rent?


Yes we do, helmets, pants and jackets, cloves, boots, rain suits. Price for rent is approx. 20-35 Euro per item for the tour. Full set will be approx. 120-150 Euro for the tour.
Do you provide paper maps and GPS?


Yes, we provide paper maps, tour book (day by day itinerary, hotel list, restaurants, places of interest we stop at, GPS coordinates, contact information, etc.). We can provide GPS upon request.
What should I bring with me?


Few months before the tour we will send you an e-mail with a tour book, group information and advices regarding what to take with you. In most cases its usual riding gear – pants and jacket, helmet and motorcycle boots, gloves, clothes with the wind stopper material. Based on the tour that you are going to ride we can advise to take some specific things with you.

From Russia with Love,
RMT Team

You have received this message because you have a subscription for Russian Moto Travel Company news.

© Copyright 2015-2023 Russian Moto Travel Company. All Rights reserved. Russia, Moscow, 1-st Borodinskaya street, 2A, 121059